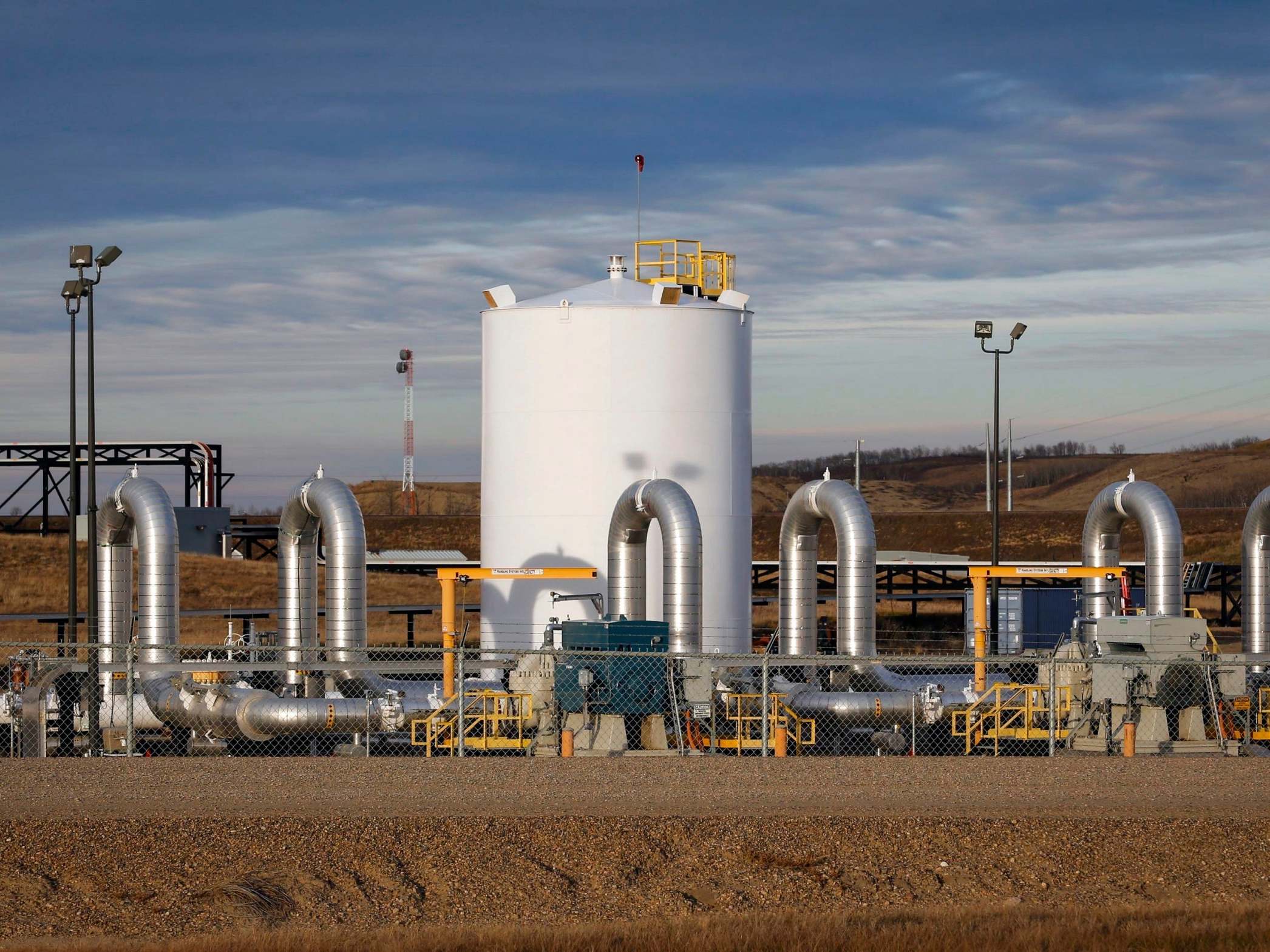 The Trump administration has approved a right-of-way to allow for the building the Keystone pipeline on US land in Montana, moving the controversial $8bn project closer to fruition just months after a damaging oil spill on another segment of the network.
The approval — which would allow for access on federal lands to construction crews — was signed by Interior secretary David Bernhardt, and would let project sponsor TransCanada Energy to build pipeline on 46 miles of Montana land controlled by the Bureau of Land Management and the US Army Corps of Engineer, according to officials.
The relatively small segment would help complete the 1,200-mile (1,930-kilometre) pipeline that would carry as many as 830,000 barrels (35 million gallons) of crude oil from western Canada all the way down to the Gulf of Mexico.
But it is far from an ending to the ongoing saga surrounding the Keystone pipeline project, which has become one of the most prominent symbols of the battle between legacy fossil fuel companies and the environmentalist groups who warn that the pipeline would lead to more fossil fuel burning, and graver impacts from climate change.
The project was first proposed in 2008, only to be rejected by the administration of former president Barack Obama. Donald Trump, upon taking office, revived the project and has thrown his weight behind the effort. 
Opponents warn that the pipeline could burst, and release crude oil into Montana's Missouri River, in addition to the concerns over climate change. Numerous lawsuits have been filed in response.
Officials at the Department of Interior and other involved agencies, for their part, point to environmental impact studies that have already been conducted, as well as TC Energy's detailed plans on how to respond to any spills from the line.
"We're comfortable with the analysis that's been done," said Casey Hammond, the assistant secretary of the Interior. But an oil spill is far from theoretical.
In October, another pipeline in the Keystone network operated by TC Energy burst and spilled an estimated 383,000 gallons of oil in eastern North Dakota. The segment in question would connect the tar oil fields more directly by cutting through Montana, then through South Dakota, and finally into Nebraska where it would join the previously built oil lines in Steele City.
Steve Volker, an attorney who represents the Indigenous Environmental Network, said that they and other groups fighting Mr Trump's permits for oil companies believe they are unconstitutional: "We know president Trump's permit was unconstitutional, and we have every confidence that the federal courts will set aside these approvals."
US District Judge Brian Morris in Montana has ruled against the project previously, including a 2018 decision in which he stalled the line, and required a new presidential permit to be signed. But, he has also denied requests from environmentalists to block construction, saying in December that he would not do so because no work was immediately planned.
The Associated Press contributed to this report
Source link
Y Not Freakin' Recyclable Home